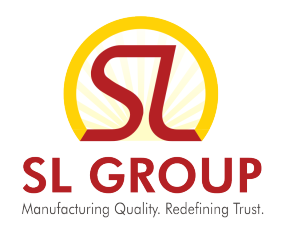 Who We are?
SL Group – The Cotton Specilaist. Involved in business, right from farm to end customer, is recognised by its tagline – Manufacturing Quality, Redefining Trust. We are the largest Cotton Chain in North India, starting from procurement of Raw Cotton to Expelling of Cottonseed Oil and Oil-Cake (Cattle-feed) to Refining of the expelled oil to manufacturing of Oil-Based Washing Soap. The manufacturing facilities are divided in four separate units located in and around Nagaur, Rajasthan. In terms of installed capacity, we are the largest manufacturer of Cottonseed Oilcake, Refined Cottonseed Oil and Cotton Bales in whole of North India.
Quality Products Offered:
Subh Laxmi Kapasia Khal (Cattlefeed) in 50 Kg Bags
Rishta - Refined Cottonseed Oil in 15 Kg Tins
Raavya - Refined Cottonseed Oil in 15 Kg Tins
Refined Cottonseed Oil in Tankers for Institutional Buyers
Full Pressed BCI Cotton Bales in 165-170 Kg Bales.
400
BCI Cotton Bales per Day
60
Tons Refined Cottonseed Oil per Day
10000
Bags Cottonseed Oilcake per Day
Cotton Ginning
Largest Ginning Unit in North India supplied by industry leader Bajaj Steel incorporating latest technolgy and safety measures.
Cattle Feed Manufacturing
State of the Art 34 Expellers for manufacturing Cottonseed Oilcake after thorough cleaning using latest technology.
Edible Oil Refining
A PLC Based, Touch-Screen Controlled, automated continuous edible oil Refining Plant supplied by industry leader Desmet Ballestra.
Soaps and Detergents
Quality Oil Based Washing Soaps, Detergent Powders and dish-washers.
Roof-Top Solar
1.3 MW Roof-Top Solar Plant for clean Energy installed by Vikram Solar.
Automated and High Tech
All Manufacturing Units are equipped with High tech and advanced machinary
Subh Laxmi Kapasia Khal
This is our Group's flagship product. It is used as cattle-feed and is sold in 50 Kg Jute Bag Packing. 10000 Bags per Day are sold to Both Retailers and Whole-sellers and Distributors.
Refined Cottonseed Oil
This is sold in two registered Brands Namely - Rishta and Raavya in 15 Kg Tin Containers. For Institutional Buyers, we supply in Oil Tankers. 60 MT of this oil is sold per day.
Full Pressed Cotton Bale
400 Bales are Sold per Day in Peak Season. We have BCI Certification and can also supply Special Contamination Controlled (CC) Bales.
Some of Our Pretigious Clients